Who is Nada Salem Abisamra?
I hold a B.A. in Languages-- Arabic, French and English;
an "Attestation de Maîtrise" in Translation;
a Teaching Diploma in TESL/TEFL--
Teaching English as a Second/Foreign Language;
and an M.A. in Teaching English as a
Second/Foreign Language.
I am now taking courses towards a Doctorate in
Curriculum & Instruction | Educational Technology Leadership.
Group for Discussions on Facebook: Nada's ESL Island.
Join us there! Post/answer questions
Click on one of the links below:



Nada's Master's THESIS:
"The Role of Motivation, Gender, and Language Learning Strategies
in EFL Proficiency" (Html / References)
Doctoral Classes
Instructional Systems Design - ISD || Foundations of Curriculum Theory
Analysis of the Role of Teachers || The ESL Reading Curriculum- New Lenses
Curriculum Theory: Notes & Reflections
Education, One of the Impossible Professions
Technological Pedagogical Content Knowledge (TPCK) for Educators
Integrating Technology in the Classroom (Based on TPACK)
"Emotions and Emotional Intelligence (EQ) in Curriculum Theory:
on Incorporating EQ Skills in Teacher Education"


"Nada's ESL Island" is highly rated by the British
"Schoolzone-Educational Intelligence" web guide!!
My Resume | My Family | Where I Taught | University Projects | Online Materials | Students' Projects
[Rubrics] | [Techmentorship] | [Sites that Link to Nada's Pages] | [Montgomery- Alabama Page]
[Middle-East Educator Magazine: Interview with Nada Salem Abisamra]
[Click here if you would like to link to "Nada's ESL Island"]
[Project Roots]







What are the Skills that a College Dean Needs to Have
in order to be a State-of-the-Art Dean?
Click below for an answer....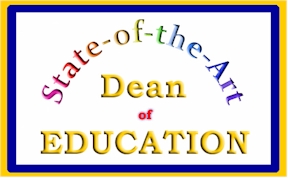 English @ ACS | ESP @ USJ | ESL @ ACS | English Tabloid
ESL at the International Officer School, Maxwell Air Force Base
Mission, Goals, Objectives (Bloom's Taxonomy)
AAETIB
(Association for Translators and Interpreters)
Organized Links:
For Teachers | For Students | For Web Page Design | For Lebanon | For French | For Search Engines
Miscellaneous | Research Sites
A Midsummer Night's Dream (Simplified)